Dentures
Partial, Complete & Immediate
All of our dentures are made with the best suited materials and technologies.
Partial Dentures
Missing some Teeth?
A Partial Denture will restore your look, making you feel better, speak clearly and chew more easily.  Replacing missing teeth may prevent your natural teeth from shifting or drifting into the free space left by the loss of your natural teeth.
Your Denturist will inform and advise you with the different designs available and the best option for your situation.
Complete Dentures
When you have no teeth in your upper or lower jaw, a complete denture is constructed to replace the missing teeth. This will restore your appearance and help you chew your food.
You can expect up to four (4) appointments from start to insertion of your dentures. After you receive your dentures and start using your dentures, it is normal that you may have to return to your Denturist for adjustments.
After that, it is in your best interest to return for your once a year regular check-ups.
Immediate Dentures
Immediate dentures are a solution for when you need to extract teeth but do not want to walk around toothless. First the denture is made before the extraction of your teeth and then inserted right after the extraction. They act as bandages by reducing post-surgical bleeding, protecting the tissues of your mouth, and promote even healing.
Immediate dentures sadly require more adjustments and temporary soft lining to keep them comfortable. Once the healing and shrinking of bone is minimal, a reline is necessary to make sure the dentures now fit onto the resorbed ridge. This usually happens around a year after the extractions.
It is a long process, but the result is worth it!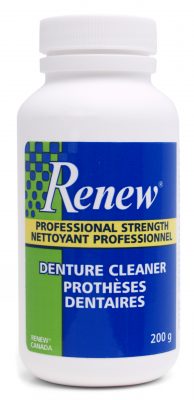 Featured Product – Renew
Guaranteed to remove tobacco, iron, plaque, coffee, calcium, calculus, tea and tartar.
Renew is unique, as it is only available through dental professionals.
Call Us Now to Book An Appointment